Meetings take place on the last Wednesday of each month at 7.15pm in Tysul Hall Llandysul (except July, August and December).
Subscription: £13pa (£11 concessions). Non-members welcome £3 per meeting.
2017 Programme
25 January - AGM followed by a Presentation of the Society's Recent Acquisitions.
22 February - "Heritage at your fingertips: The Royal Commission's Online Services" Tom Petts
24 March - Open Day at the Porth Hotel, Llandysul, from 11am. A chance to view the Society's collection.
29 March - Memories of an Evacuee from Liverpool. Barbara Davies
26 April - The Downton Abbeys of the Teifi-Side. Gerwyn Morgan
13 May - Display at Local and Family History Fair at the National Library of Wales.
31 May - Remembering the 1960s. Mike Watkins
Wednesday, 28th June: Guided Tour of Cardigan Castle
Meet in the box office by 12.45pm. The tour begins at 1pm. Cost £5, payable on the day.
The tour will last about 45 minutes and then we are free to look around.
To book a place contact Lesley 07989 127 396 /

This email address is being protected from spambots. You need JavaScript enabled to view it.

by Saturday, 17 June.
The 1176 restaurant is open from 10am – 4pm. If you want lunch, they suggest you reserve a table on 01239 562 002.
We can follow the tour with refreshments in the restaurant. Or Afternoon High Tea is also available but you will need to book on 01239 562 002. The cost is £13.50 per person or £18.50 with a glass of sparkling Prosecco!
Photographs from our
Guided Tour of Cardigan Castle
Castell Aberteifi
Visit to Castell Aberteifi / Cardigan Castle on Wednesday 28 June. Guided tour with Glen Johnson.
1 July Pop up exhibition at Llandysul and Pont-Tyweli Carnival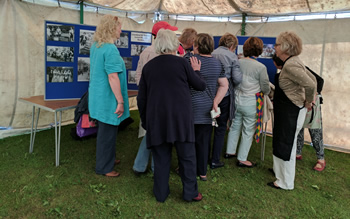 27 September - Interesting local bits and bobs. Andrew Williams and Jane Kerr
25 October* - Film Night. "Valley of Song" Shown by Ivor E. Thomas
29 November* - "Mysteries of a Medieval Nunnery" with Jemma Bezant.
13 December - Christmas Dinner with entertainment
* The programme has changed. Film Night was 29 November but is now 25 October and the talk about Llanllyr is now in November not October as first published.