Mam Owain Glyndŵr - Merch Llandysul (daughter of Llandysul)
Owain Glyndŵr was chosen Prince of Wales, by his supporters in Glyndyfyrdwy at a famous meeting held on 16th September 1400. His genealogical right to such a title came from his father, Gruffydd Fychan's descent from the Royal Family of Powys, and his mother's descent from the Royal Family of Deheubarth. This fact is given in all history books concerning our great national champion, Owain Glyndŵr. Most of these history books then go on to explain Owain's background in what is now southern Denbighshire. The famous places associated with Owain are consequently all in Denbighshire; Ruthun, Glyndyfyrdwy, Sycharth, Corwen, Valle Crucis etc.
But what of Deheubarth? Who were Owain Glyndŵr's family in Deheubarth? And where did they live?
Well, Owain's mother Elen, was from a family of four. She had a sister Margaret, and a brother Owain, and a half brother Maredudd, and these were the last, independent, landowning members of the Royal Family of Deheubarth, who traced their ancestry back through The Lord Rhys to Rhys ap Tewdwr and Maredudd ab Owain to Hywel Dda.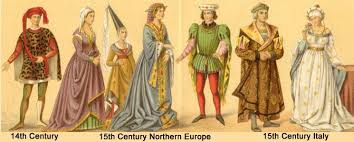 When The Lord Rhys ruled over south Wales, (Deheubarth), his lands stretched from the English border to Pembroke, and from the south coast to the River Dyfi. His capitols were at Nanhwyfer, Aberteifi, Pencader, Dinefwr and Ystrad Meurig, but by the time of Elen, these lands had been greatly reduced, by conquest and confiscation by the English kings.
On the 8th, November 1400, Owain Glyndŵr's lands, had been confiscated by King Henry IV, and granted by him to his brother, John, Earl of Somerset. They included the manors and lordships of Glyndyfyrdwy, Sycharth, and Cynllaeth, in north Wales, and of Iscoed and Gwynionydd, in south Wales. It comes as no surprise, therefore, that the men of Iscoed were in the first group of the men of Cardiganshire to join Owain in 1400.
Iscoed and Gwynionydd were two cwmwds forming the southern edge of Ceredigion, bordered by the River Teifi. Iscoed stretched from the mouth of the Teifi to Afon Ceri, and Gwynionydd stretched from there, almost to Llanwenog. Iscoed was divided into two communities, by Nant Hirwern; Is Hirwern, and Uwch Hirwern. Likewise, Gwynionydd was divided by Nant Cerdin into Is Cerdin and Uwch Cerdin. Llandysul is in "Is Cerdin".
Owain Glyndŵr's grandfather was Thomas [died 1343-4], father of Elen, Margaret and Owain. He had another son, Maredudd, by a second marriage, who was declared illegitimate, because, though marriage between first-cousins was acceptable under Welsh law, it was not under Roman Law, by which the English ruled in Wales.
Thomas also had a brother Owain, who was lord of Trefgarn 'Owen' near Brawdraeth in north Pembrokeshire, after whom it was named. He died childless. After the death of his nephew Owain ap Thomas (c. 1360), and because Elen inherited the Ceredigion lands of her father, her uncle Owain's lands at Trefgarn Owen passed to Margaret. There is a very strong legend that when Elen was due to give birth to her first son, Owain Glyndŵr, on 28 May 1359, she was not at Glyndyfyrdwy, the home of her husband, but at the home of her uncle Owain, and by the following year (1360), her sister Margaret's home at Trefgarn Owain, and that that is the birthplace of Owain Glyndŵr. This would be a particularly plausible story if they were attending uncle Owain's final hours.
Margaret firstly married William of Llanbrynmair, in Montgomeryshire, but when he died, she married, Goronwy ap Tudur of Penmynydd in Môn. Their effigy is still to be seen in Penmynydd church. Goronwy's brother Maredudd ap Tudur [Margaret's brother-in-law] was the father of Owain Tudur, who married Catherine de Valois, was the father of Jasper Tudor (Earl of Pembroke) and Edmund Tudor (earl of Richmond) and grandfather of King Henry VII of Wales and England.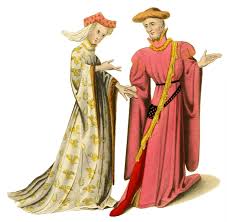 Elen, married Gruffydd Fychan in 1350 and brought with her the major part of all that remained of the Cardiganshire realm of Rhys ap Tewdwr. The death of both Owain ap Llywelyn and Owain ap Thomas ap Llywelyn, brought the male line of Deheubarth to an end, and Owain Glyn Dwr's mother and father thus inherited Is Coed uwch Hirwern and Gwynionydd Is Cerdin.
As lords of Gwynionydd Is Cerdin, Owain ap Llywelyn and his nephew, Owain ap Thomas ap Llywelyn were joint patrons of the church of Llandysul and on 08 November 1355;
"Oweyn ap Lewelin ap Oweyn and Oweyn ap Thomas had presented John de Woodhull,
Chaplain, to the church of Llandussul then vacant, and Thomas, Bishop of St. David's
issues his writ to the Archdeacon of Cardigan, ordering him to hold an inquisition for the
purpose of ascertaining their right to present &c."
Owain Glyndŵr's great-grandfather, the father of Thomas and Owain was Llywelyn (1308) ap Cynan (?) ap Maredudd (1265) ab Owain (1235) ap Gruffudd (1201) ap Rhys (Fychan) ap Yr Arglwydd Rhys(1198) ap Gruffudd (1137) ap Rhys (1093) ap Tewdwr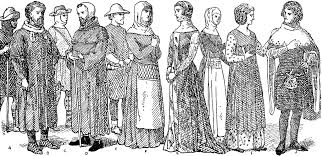 Thomas' brother, Owain ap Llywelyn ab Owain spent much of his life in the king of England's service in France. In 1345 with Rhys ap Gruffydd and Rhys Fychan he was made 'commissioner of array' that is they were to muster one thousand men from south Wales for the English war in France. One half of them were to be lancers or spearmen and the other half archers, and they were to meet the King at Portsmouth within three weeks of Michaelmas at the latest (20th September). Owain was commissioned again in April the following year (1346). Of course Owain Glyndŵr also spent much of his time fighting for England against both France and Scotland, a precedent set by his ancestors.
Both Llywelyn ab Owain and Owain ap Thomas, held courts in their lordships, and on 20 September 1344 they were each;
"summoned before Gilbert Talbot and others, at Cardigan on Monday next after the Feast of the Exaltation of the Holy Cross, September 20, to show by what warrent he claimed, for himself and this heirs, to hold his free courts, namely one court in each of the aforesaid Lordships, as well crown pleas as all others, without brief, according to the law and custom of Wales, together with many other extensive seigneural rights."
Llywelyn ab Owain was lord of the commot of Iscoed Uwch Hirwern, a fourth part of the commot of Gwynionydd and one westva (westfa) in Mabwynion called the westfa of 'Starrok' (Is Carron?) and Oweyn ap Thomas was Lord of Iscoed Uwch Hirwern and a fourth part of the commot of Gwynionydd.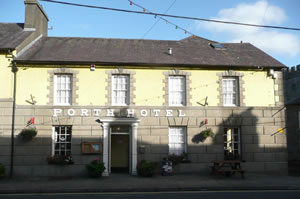 One of these courts was in Llandysul.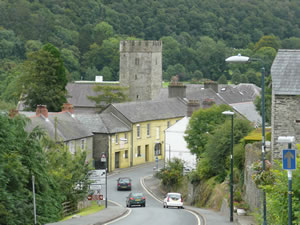 Thus whilst Machynlleth, Penel, Sycharth, Glyndyfyrdwy, Corwen, Ruthun remember Owain Glyndŵr, let us not be left behind. There is good reason for the people of Brawdraeth celebrating him as a son of theirs, and somewhere, amongst the older buildings of Llandysul is the Court of Owain Glyndŵr and his ancestors. Remember, Owain and his mother and father, before him had been lords of Is Coed Uwch Hirwern and Gwynionydd Is Cerdin since c.1360, forty years before Owain was declared Prince of Wales on that fateful night in 1400.
John H Davies 14 9 2005