Meetings take place on the last Wednesday of each month at 7.15pm in Tysul Hall Llandysul (except July, August and December).
Subscription: £13pa (£11 concessions). Non-members welcome £3 per meeting.
2016 Programme
27 January - AGM and Presentation of the Society's recent acquisitions
6 February - open day in conjunction with National Libraries Day at Llandysul Library
24 February - "Origins of the Cenotaph" with Dr. Lester Mason
30 March - "History of Motoring in Ceredigion" with Andrew Williams
27 April
-
"Wife to moor to lift turf:
The daily lives of an elderly Ceredigion couple at the end of the 18th century" with
Michael Freeman **date change - originally 28/9**
30 April - Ceredigion Local History Forum "

Transport in Ceredigion" at

Llwyncelyn Hall,

SA46 0HF. 10.30am-4pm.
The day will include expert speakers talking about the many different forms of transport used in the county, including Car & motorcycle registrations, Shipping & Crew Agreements, Railways and The history of roads in Ceredigion.
Admission £6.50, to include tea, coffee and light lunch. Warm welcome to all.
Please contact the Secretary (

This email address is being protected from spambots. You need JavaScript enabled to view it.

/ 01970 832573) to book a place, to ensure that we have enough food!
http://www.ceredigionlhf.org.uk
14 May, 10am-4pm -

Family and Local

History Fair at the National Library of Wales, Aberystwyth.
A full day of talks, presentations

and stands, with an opportunity

to talk to experts. A fascinating

day for everyone interested

in all aspects of Family and

Local History. The event is
held in collaboration with the

Cardiganshire Family History

Society and the Association

of Family History Societies

of Wales.

Free admission.
Llandysul and District Local History Society will have a stall there too.
25 May, 6pm
-
Visit to Internal Fire Museum of Power
Our meeting on Wednesday, 25 May will be a visit to the

Internal Fire Museum of Power at

Castell Pridd, Tanygroes, SA43 2JS.
The museum is on the A487 Cardigan to Aberystwyth road, 8 miles north of Cardigan just before the village of Tanygroes (signposted from the road).
We will meet in the Museum car park for a tour starting at 6 pm, when they will start several engines for our tour.
The cost is £6 per person (£5 concessions) and tea and coffee will be available (at extra cost).
Members, non-members, friends and relatives are all welcome as we need a minimum of 20.
Please book with Lesley at

This email address is being protected from spambots. You need JavaScript enabled to view it.

so that we know how many are coming.
Please join us on this visit - you will be amazed!!
29 June
-
"Llandysul Railway" with Ken Jones
24 August - Visit to Peter Newill's Agricultural Museum
Gerynant, Talgarreg.
SA44 4ES
.

Wednesday, 24 August.

Meet at museum at 6 pm.
No set admission charge but donations welcomed.

There is a pub nearby, where we can have a drink afterwards (optional!)
28 September
- "Maritime Archaeology – Home & Away" with Prof. Nigel Nayling **date change - originally 27/4**
26 October
- "
Ceredigion Limekilns" with Richard Lewis
30 November
–
Film Night with I
vor Thomas
Just over 100 years ago in 1916, the film "Battle of the Somme" was shown at the Porth Assembly Hall.
We will be showing the film again on
Wednesday 30th November, 7pm,
at the Porth Hotel, Llandysul.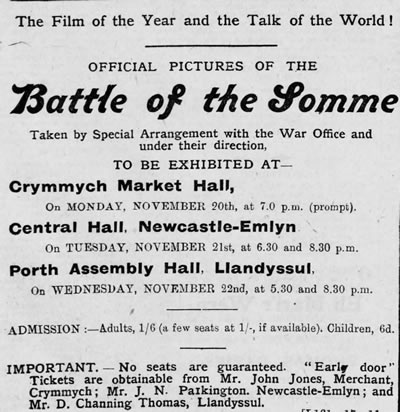 14 December – Christmas Dinner at the Porth Hotel